Jeanne du Barry 4K 2023 Ultra HD 2160p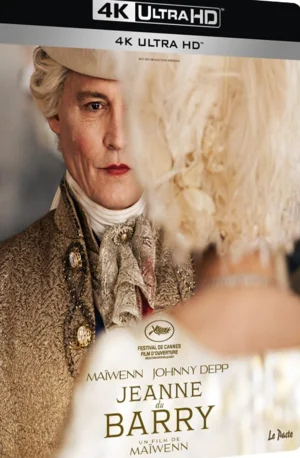 BDRemux 4K 2160P
Сountry: France | Belgium | UK | Russia | Saudi Arabia
Language: French
Cast: Maïwenn, Johnny Depp, Benjamin Lavernhe, Melvil Poupaud, Robin Renucci, Pierre Richard, Marianne Basler, Pascal Greggory, Caroline Chaniolleau, India Hair, Suzanne De Baecque, Capucine Valmary, Laura Le Velly, Patrick d'Assumçao, Diego Le Fur, Pauline Pollmann, Noémie Lvovsky, Micha Lescot.
Storyline
The life of Jeanne Bécu who was born as the illegitimate daughter of an impoverished seamstress in 1743 and went on to rise through the Court of Louis XV to become his last official mistress.

User Review
The movie is truly beautifully designed and is filled with magnificent shots of Versailles. The locations and costumes have been carefully chosen and are a feast for the eyes. The story and the dialogues are entertaining enough to keep you engaged. Johnny Depp makes for a fantastic French king.

The film is directed by Maïwenn, who also plays the lead role. I can understand that a woman wants to play the role of Madame Du Barry (and she acts very well) but I don't see Madame Du Barry; I see Maïwenn. Her beauty is exaggerated. She has a coarse face with a huge mouth and a large set of teeth that give her a somewhat masculine look. I find her charming and likable, but I can't find the subtle, enchanting Madame Du Barry from the stories.

Although Maïwenn plays a character role, it's never explored and it's never really clear how her ambitions relate to her love for the king. Their love lacks intimacy and becomes somewhat understandable only towards the very end. But then it is too late for drama. The only drama in the movie comes from Benjamin Lavernhe. That man deserves a leading role.
File size: 71.91 GB

You bought a premium. Contact the TakeFile support team, they will increase your traffic up to 512 gb every 48 hours.
Watch trailer of the movie Jeanne du Barry 4K 2023 Ultra HD 2160p