Violent Night 4K 2022 Ultra HD 2160p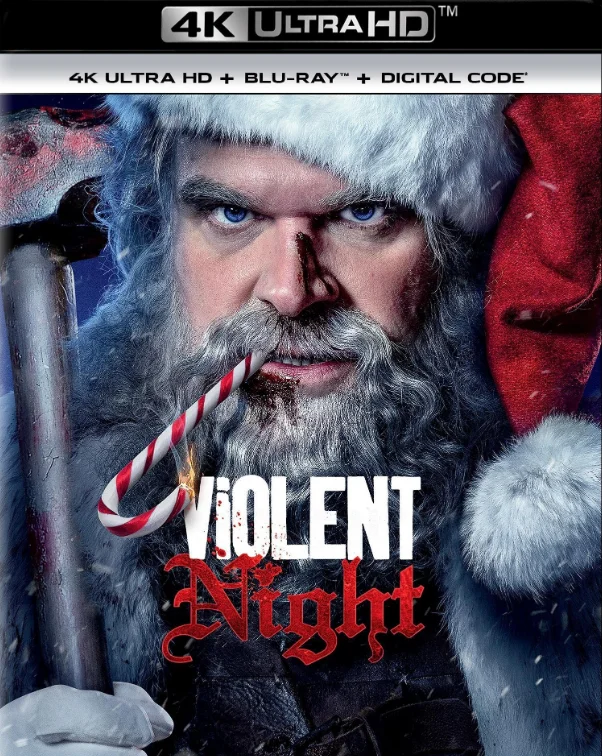 BDRemux 4K 2160P
Сountry: USA, Canada
Language: English, French, Spanish, German, Italian, Japanese.
Cast: David Harbour, John Leguizamo, Beverly D'Angelo, Alex Hassell, Alexis Louder, Edi Patterson, Cam Gigandet, Leah Brady, André Eriksen, Brendan Fletcher, Mike Dopud, Alexander Elliot, Mitra Suri, Can Aydin, Phong Giang, Finn McCager Higgins, Rawleigh Clements-Willis, Stephanie Sy.
Storyline
When a team of mercenaries breaks into a wealthy family compound on Christmas Eve, taking everyone inside hostage, the team isn't prepared for a surprise combatant: Santa Claus is on the grounds, and he's about to show why this Nick is no saint.

User Review
Violent Night may be just 10 mins too long but thankfully that doesn't stop it from executing it's beautiful premise extremely well. A super violent and really funny action movie that doesn't forget to bring the necessary heart and festive spirit as a Christmas movie.

David Harbour gives a terrific lead performance as Santa, displaying an emotional range way beyond what's expected and delivering some truly heartwarming moments with Leah Brady who brings a boundless optimism to her adorably innocent character.

Tommy Wirkola's direction is great, the action scenes are so much fun to watch, really inventive and always comprehensible. The music by Dominic Lewis is really good, combining the epic action movie pieces with more traditionally festive moments.


Info Video
Codec: HEVC / H.265 (75.3 Mb/s)
Resolution: Native 4K (2160p)
HDR: HDR10
Aspect ratio: 2.39:1
Original aspect ratio: 2.39:1


Info Audio
#English: Dolby TrueHD with Dolby Atmos 7.1 (48kHz, 24-bit)
#German: Dolby TrueHD with Dolby Atmos 7.1
#German: Dolby Digital 5.1
#French: DTS-HD HR 7.1 (48kHz, 24-bit)
#French: DTS 5.1
#Spanish (Latino): DTS-HD HR 7.1 (48kHz, 24-bit)
#Japanese: DTS 5.1
#Italian: DTS-HD HR 7.1 (48kHz, 24-bit)


Info Subtitles
English (SDH), Arabic, Bulgarian, Chinese (Traditional), Croatian, Czech, Danish, Dutch, Finnish, French (Canadian), French (Parisian), German, Greek, Hebrew, Hungarian, Italian, Japanese, Korean, Norwegian, Polish, Portuguese (Brazilian), Portuguese (Iberian), Russian, Serbian, Slovak, Slovenian, Spanish (Castilian), Spanish (Latin American), Swedish, Thai, Turkish

File size: 70.89 GB

You bought a premium. Contact the TakeFile support team, they will increase your traffic up to 512 gb every 48 hours.
Watch trailer of the movie Violent Night 4K 2022 Ultra HD 2160p