Trading Places 4K 1983 Ultra HD 2160p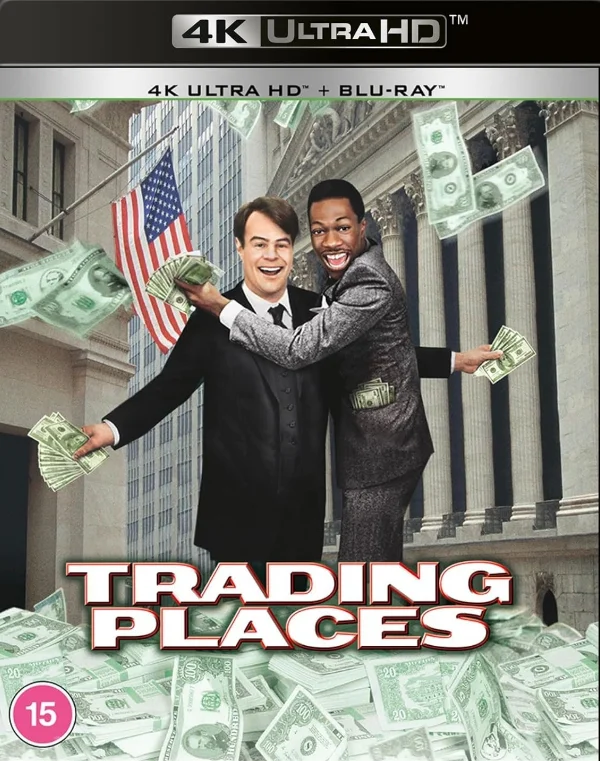 BDRemux 4K 2160P
Сountry: USA
Language: English, French, Spanish, German, Italian, Japanese.
Cast: Eddie Murphy, Dan Aykroyd, Ralph Bellamy, Don Ameche, Denholm Elliott, Maurice Woods, Richard D. Fisher Jr., Jim Gallagher, Anthony DiSabatino, Bonnie Behrend, Sunnie Merrill, James Newell, Mary St. John, Bonnie Tremena, David Schwartz, Tom Degidon, William Magerman, Alan Dellay.
Storyline
Louis Winthorpe is a businessman who works for commodities brokerage firm of Duke and Duke owned by the brothers Mortimer and Randolph Duke. Now they bicker over the most trivial of matters and what they are bickering about is whether it's a person's environment or heredity that determines how well they will do in life. When Winthorpe bumps into Billy Ray Valentine, a street hustler and assumes he is trying to rob him, he has him arrested. Upon seeing how different the two men are, the brothers decide to make a wager as to what would happen if Winthorpe loses his job, his home and is shunned by everyone he knows and if Valentine was given Winthorpe's job. So they proceed to have Winthorpe arrested and to be placed in a compromising position in front of his girlfriend. So all he has to rely on is the hooker who was hired to ruin him.

User Review
I couldn't remember much of this movie when I borrowed it from a friend to watch for the second time... I can't have been very old when I first saw this, because there were not much more than one scene that I recognized. Even the title seemed new to me. Furthermore, I don't recall thinking about the film... about what it meant. This contains a lot of sad truth. The scenes of Aykroyd's character going from the peak of America's business life to rock bottom in a disturbingly short amount of time provide food for thought. Landis presents these events without pretense or heavy-handedness... he gives us the facts as they are. No bias. This direct, almost indifferent tone makes it all the more scary... this is the way it is, and that's accepted. The movie also has some insight to prove on racism and greed. Paul Gleason, whom I have only seen in The Breakfast Club(and Not Another Teen Movie, spoofing his character in aforementioned movie) plays a radically different role, yet still shows some of the authority he's famous for as the principal in The Breakfast Club. That was amusing to watch for someone who enjoyed said film so much. Jamie Lee Curtis bares a lot of skin, for those in the audience looking for that. Aykroyd and Murphy are both extraordinary. They get to play with their characters a lot, to great effect. They create so many funny moments, there are simply too many to list or for mere words to do justice; you'll just have to watch the film for itself. If you are a fan of either actor, you won't be disappointed. The language surprised me, with how uncensored it was, compared to today's standards. The plot is interesting, and based on an intelligent idea. The pacing is dynamic. The acting is all top-notch. The humor is mostly good and tasteful, with few but glaringly obvious exceptions(the fate of Beeks being an almost offensive one). The film has more heart than most of its kind... if you watch only one movie of this type, let this be it. I recommend this to fans of the actors and/or director, and people intrigued by the general idea. If you are even considering watching this... take my advice and do so. It is intelligent without being preachy and funny without trying too hard. John Landis has yet again created something big.


Info Video
Codec: HEVC / H.265 (65.1 Mb/s)
Resolution: Native 4K (2160p)
HDR: Dolby Vision, HDR10
Aspect ratio: 1.78:1
Original aspect ratio: 1.85:1


Info Audio
#English: Dolby TrueHD 5.1 (48kHz, 24-bit)
#French: Dolby Digital 2.0 Mono
#German: Dolby Digital 2.0 Mono
#Spanish (Latino): Dolby Digital 2.0 Mono
#Italian: Dolby Digital 2.0 Mono
#Japanese: Dolby Digital 2.0 Mono


Info Subtitles
English, English SDH, Chinese (Mandarin Traditional), Czech, Danish, Dutch, Finnish, French, German, Greek, Hungarian, Italian, Japanese, Norwegian, Polish, Portuguese (Brazilian), Portuguese (Iberian), Russian, Spanish (Castilian), Spanish (Latin American), Swedish, Thai

File size: 56.36 GB

You bought a premium. Contact the TakeFile support team, they will increase your traffic up to 512 gb every 48 hours.
Watch trailer of the movie Trading Places 4K 1983 Ultra HD 2160p