Moonage Daydream 4K 2022 Ultra HD 2160p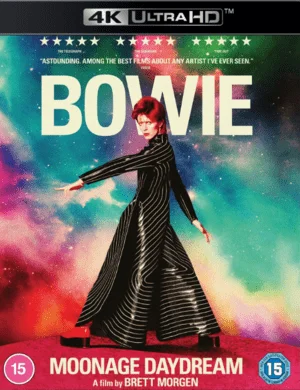 BDRemux 4K 2160P
Сountry: USA | Germany
Language: English
Cast: David Bowie, Trevor Bolder, Ken Fordham, Mike Garson, John 'Hutch' Hutchinson, Geoff MacCormack, Mick Ronson, Brian Wilshaw, Mick Woodmansey, Jeff Beck, Carlos Alomar, Gui Andrisano, Ava Cherry, Robin Clark, Dennis Davis, Greg Errico, Herbie Flowers, Richard Grando.
Storyline
A cinematic odyssey exploring David Bowie's creative and musical journey. From visionary filmmaker Brett Morgen, and sanctioned by the Bowie estate.

User Review
'Moonage Daydream' is a not-really-documentary about David Bowie, as it doesn't follow the traditional talking heads of friends, family and colleagues. It's also not a concert film, although it does have some live concert footage, apparently much of it previously unseen. Directed by Brett Morgen (who did 'Montage of Heck' about Kurt Cobain and 'Crossfire Hurricane' about The Rolling Stones), it's also not wall-to-wall songs - I'd say there were only ~10 songs played in full, with lots of others used as transitions.

The film does well to show his impact on his fans, with bits and pieces from outside shows and plenty of crowd closeups during the live bits. There's plenty of archival Bowie interviews, much of it overlaid with other visuals of him or with the psychedelic "screensaver"-type CGI. It's edited well, so it feels like he's talking directly to you, rather than an interviewer. Lots of his other art - paintings, video-snippets, dance - edited in too.

It's sort-of chronological, starting in ~'72 and the Ziggy Stardust era, covering up to the early '90s, but some of the interviews jump to an older Bowie, so he can juxtapose himself and some of the comments/views from his younger self. He was certainly a bit of a mystery and for a lot of the film comes across as someone just trying to find his place in the world. Good to see some of his reasoning around certain things and his genius definitely shines through. Hard to believe he's already been gone almost 7 years.
File size: 82.67 GB

You bought a premium. Contact the TakeFile support team, they will increase your traffic up to 512 gb every 48 hours.
Watch trailer of the movie Moonage Daydream 4K 2022 Ultra HD 2160p