Frenzy 4K 1972 Ultra HD 2160p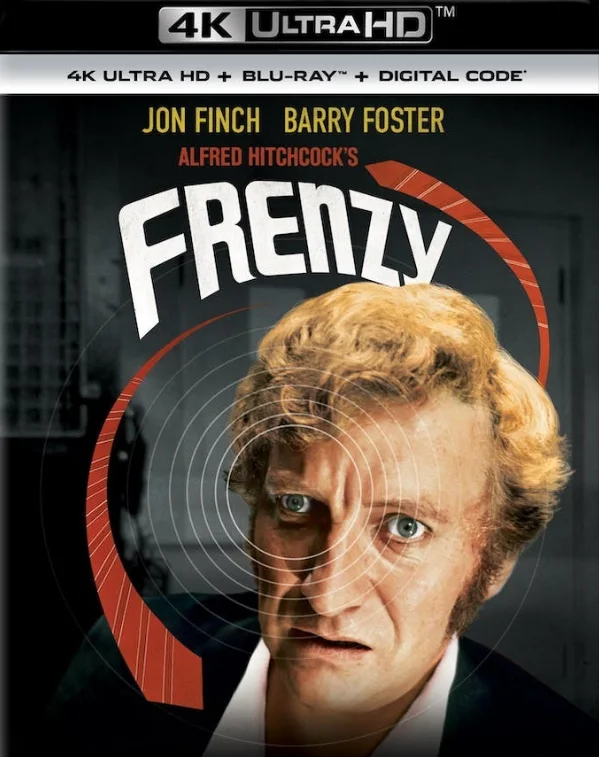 BDRemux 4K 2160P
Сountry: UK
Language: English, French, Spanish, German, Italian, Japanese.
Cast: Jon Finch, Barry Foster, Barbara Leigh-Hunt, Anna Massey, Alec McCowen, Vivien Merchant, Billie Whitelaw, Clive Swift, Bernard Cribbins, Michael Bates, Jean Marsh, Madge Ryan, Elsie Randolph, Gerald Sim, John Boxer, George Tovey, Jimmy Gardner, Noel Johnson
Storyline
London is terrorized by a vicious sex killer known as The Necktie Murderer. Following the brutal slaying of his ex-wife, down-on-his-luck Richard Blaney is suspected by the police of being the killer. He goes on the run, determined to prove his innocence.

User Review
The grand man of suspense, Alfred Hitchcock, directs this dark film about a man that kills women with neckties with relish, aplomb, and an atypical grimness. The story is typical Hitch as an innocent man is pushed into a world of intrigue around him as everyone believes him to be the necktie killer. Jon Finch plays the innocent with earnestness and is quite good in his role. The rest of the cast is very effective as well. Hithcock, however, is the real star with his camera. Although much of the film is nothing more than tried and true material, Alfred Hitchcock makes the mundane spectacular with his camera and some great shots and spaces of silence. The scene where a girl coming back from lunch is awesome as we the audience are made to wait what seems an eternity for her to discover what has taken place since she left. The scene of the camera moving in and out of the house of the killer is also wonderful, as is the scene with the killer in the potato truck. That scene is easily the most suspenseful of the entire film. The film is particularly dark for Hitchcock as a women is raped rather abruptly(for lack of a better word) showing naked breasts and genuine terror. To counter-balance the more lurid aspects of the film is a subplot story of a police inspector, played with charm by Alec McCowen, whose wife constantly feeds him nothing but gourmet meals that sound and look quite horrible! These scenes are so funny and charming! A good thriller from the master of suspense!


Info Video
Codec: HEVC / H.265 (60.8 Mb/s)
Resolution: Native 4K (2160p)
HDR: Dolby Vision, HDR10
Aspect ratio: 1.85:1
Original aspect ratio: 1.85:1


Info Audio
#English: FLAC 2.0 Mono
#English: DTS-HD Master Audio 2.0 Mono (48kHz, 24-bit)
#Spanish (Latino): DTS 2.0 Mono
#French: DTS 2.0 Mono
#German: DTS 2.0
#Italian: DTS 2.0
#Japanese: DTS 2.0


Info Subtitles
English SDH, French, German, Italian, Japanese, Spanish, Danish, Finnish, Norwegian, Swedish

File size: 53.09 GB

You bought a premium. Contact the TakeFile support team, they will increase your traffic up to 512 gb every 48 hours.
Watch trailer of the movie Frenzy 4K 1972 Ultra HD 2160p