American Graffiti 4K 1973 Ultra HD 2160p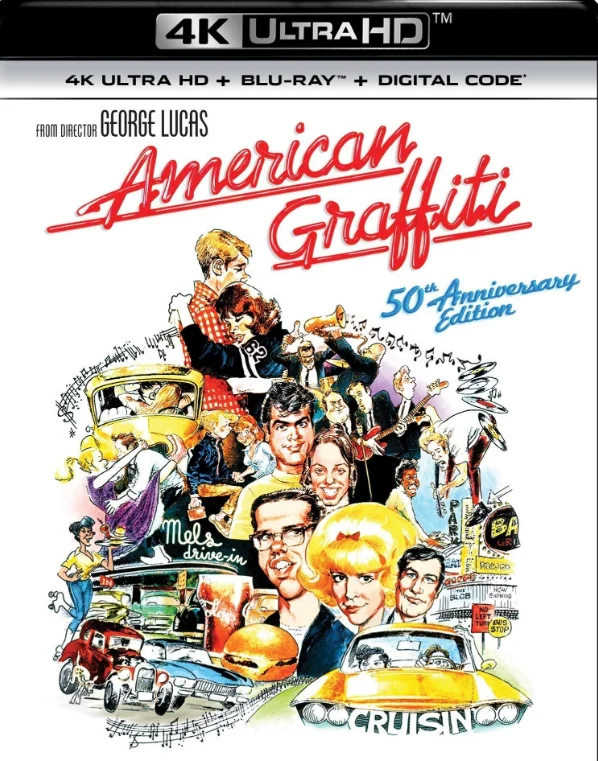 BDRemux 4K 2160P
Сountry: USA
Language: English, French, German, Italian, Spanish, Japanese, Portuguese
Cast: Richard Dreyfuss, Ron Howard, Paul Le Mat, Charles Martin Smith, Cindy Williams, Candy Clark, Mackenzie Phillips, Wolfman Jack, Bo Hopkins, Manuel Padilla Jr., Beau Gentry, Harrison Ford, Jim Bohan, Jana Bellan, Deby Celiz, Lynne Marie Stewart, Terence McGovern, Kathleen Quinlan.
Storyline
It's the proverbial end of the summer 1962 in a small Northern California town. It's the evening before best friends and recent high school graduates, Curt Henderson and Steve Bolander, are scheduled to leave town to head to college back east. Curt, who received a lucrative local scholarship, is seen as the promise that their class holds. But Curt is having second thoughts about leaving what Steve basically sees as their dead end town. Curt's beliefs are strengthened when he spots an unknown beautiful blonde in a T-bird who mouths the words "I love you" to him. As Curt tries to find that blonde while trying to get away from a local gang who have him somewhat hostage, Curt may come to a decision about his immediate future. Outgoing class president Steve, on the other hand, wants to leave, despite meaning that he will leave girlfriend, head cheerleader and Curt's sister, Laurie Henderson, behind. Steve and Laurie spend the evening "negotiating" the state of their relationship. Meanwhile, two of their friends cruise around town for the evening. Steve has left his car to meek and mild-mannered Terry "Toad" Fields to look after during his absence. The wheels give Toad a new sense of confidence, which he uses to try and impress Debbie Dunham, a more experienced girl generally out of his league. And John Milner, who is seen as the king of the street race in his souped-up yellow deuce coupe, tries to get rid of precocious pre-teen, Carol Morrison, who has somehow become his passenger for the evening, while dealing with the challenge of bold out-of-towner, Bob Falfa.

User Review
I don't know if George Lucas really knew what he had in this picture--surely the screenplay seemed funny enough, and the thought of the cars and the period music was enticing--but did he really know these "unknown" actors would bring these characters to life? It seems almost a fluke, shot in 29 days and on a tight budget, but "American Graffiti" is a classic. It is perhaps pure nostalgia, mixing pathos and humor, sadness and craziness, hope and reflection in quiet little bursts of excitement. After cruising with Milner all night, teenage Carol hates to say goodbye but does, waving from her porch with the light on; Toad survives one bad accident after another, but his real moment is in hearing praise from his date (fantastic, husky-voiced Candy Clark, dolled up like a speeding Sandra Dee) just before she says good night; after chasing his dream date all night, Kurt (Richard Dreyfuss, green and anxious, and appealingly bemused) finally gets to talk to the stunning blonde wonder on the telephone, where she whispers a wrenching goodbye. The whole movie is steeped in reflection. It has great, great humor, yet it leaves one with a bittersweet melancholia. For yesterday is in the past, with our music, our memories and our hesitant farewells.


Info Video
Codec: HEVC / H.265 (79.2 Mb/s)
Resolution: Native 4K (2160p)
HDR: Dolby Vision, HDR10
Aspect ratio: 2.35:1
Original aspect ratio: 2.39:1


Info Audio
#English: DTS-HD Master Audio 5.1 (48kHz, 24-bit)
#Japanese: DTS 2.0
#Spanish (Latino): DTS 2.0
#French: DTS 2.0
#German: DTS 2.0
#Italian: DTS 2.0
#Portuguese: DTS 2.0


Info Subtitles
English SDH, French, Spanish, Japanese, German, Italian, Danish, Finnish, Norwegian, Swedish, Czech, Chinese, Korean

File size: 67.21 GB

You bought a premium. Contact the TakeFile support team, they will increase your traffic up to 512 gb every 48 hours.
Watch trailer of the movie American Graffiti 4K 1973 Ultra HD 2160p