Mother's Day 4K 1980 Ultra HD 2160p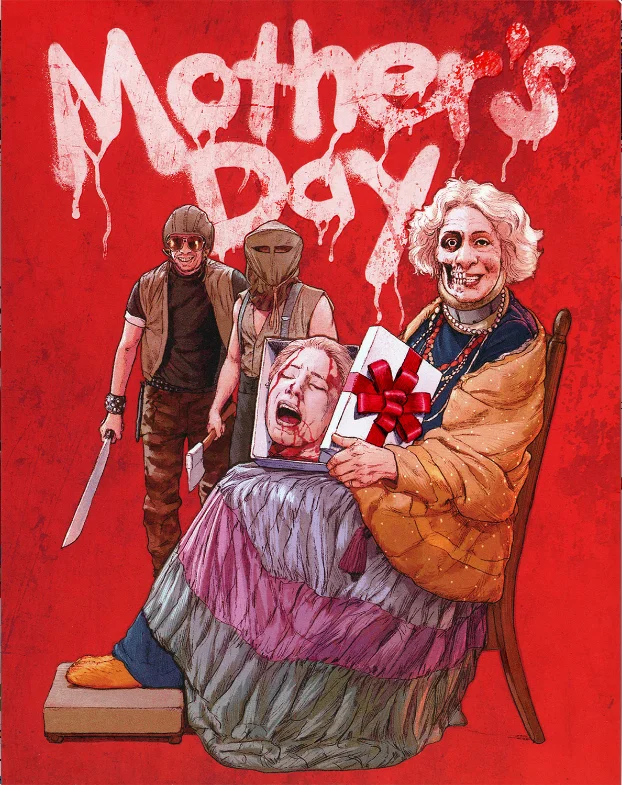 BDRemux 4K 2160P
Сountry: USA
Cast: Tiana Pierce, Nancy Hendrickson, Deborah Luce, Gary Pollard, Michael McCleery, Beatrice Pons, Robert Collins, Peter Fox, Luisa Marsella, Kevin Lowe, Scott Lucas, Ed Battle, Robert Carnegie, Silas Davis, Stanley Kaufman, John Radom, Louie Cogie, Sondra Fortunato
Storyline
When you go into the woods today, you're in for a big surprise. When you go into the woods today you're not going to believe your eyes. But it ain't no "teddy bear picnic". Three women discover that two men are willing to do anything to impress Mother, and what impresses Mother is watching her sons commit acts of rape and murder. Now these women are prisoners, lowered to pawns in the game of checkers between two dimwits and their Maniac Mommy, and the question becomes, can any of them escape, alive?

User Review
Let's get something straight: This movie is offensive. It features an old mom urging her two misfit sons to brutally rape, torture, abuse, and murder young women for her entertainment. BUT IT'S BRILLIANT, AND WELL DONE FOR ITS TYPE.

With a shlocky piece of exploitation like this, we rarely if ever get a story and character development in the mix. The story of a group of young women planning a weekend getaway for their reunion celebration first provides us with background history detailing their personalities and personal problems. We get to know these girls...and once they get "caught" by the family of crazies, we share their dilemma.

I might also say that the surprise beginning really grabbed me (I first saw the movie in a theatre in 1980 and had no clue what was going to happen), and the ending is also pretty good.

As gruesome as these killers are in the film, you almost feel for them too. You sense that the imbecile sons are victims of their overbearring mother, and have had no proper upbringing to keep them from being such animals. Even mother is pathetic in a pitiful way.

MOTHER'S DAY will probably never be respected, and it is not for everybody. But I respect it and feel it stands out far in front of zillions of other exploitation/slasher knock-off's.


Info Video
Codec: HEVC / H.265 (89.5 Mb/s)
Resolution: Native 4K (2160p)
HDR: HDR10
Aspect ratio: 1.85:1
Original aspect ratio: 1.85:1


Info Audio
#English: FLAC 1.0
#English: Dolby Digital (Commentary by Charles Kaufman)


Info Subtitles
English SDH

File size: 57.29 GB

You bought a premium. Contact the TakeFile support team, they will increase your traffic up to 512 gb every 48 hours.
Watch trailer of the movie Mother's Day 4K 1980 Ultra HD 2160p