Rudy 4K 1993 Directors Cut Ultra HD 2160p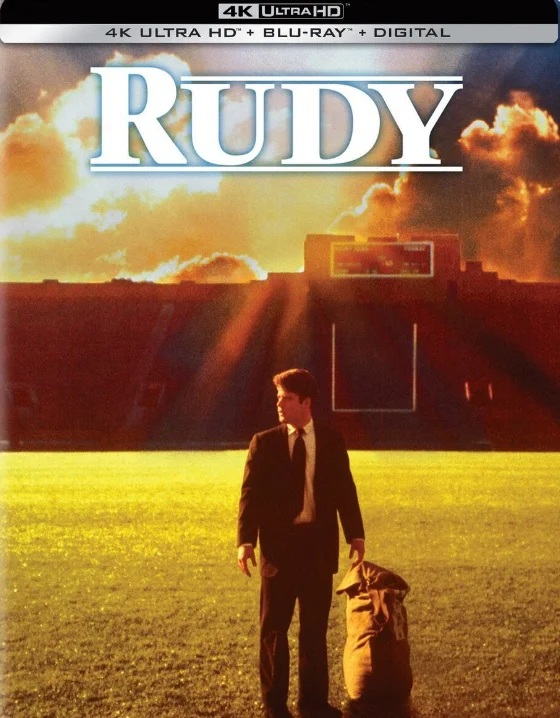 BDRemux 4K 2160P
Сountry: USA
Cast: Sean Astin, Jon Favreau, Ned Beatty, Greta Lind, Scott Benjaminson, Mary Ann Thebus, Charles S. Dutton, Lili Taylor, Christopher Reed, Deborah Wittenberg, Christopher Erwin, Kevin Duda, Robert Benirschke, Luke Massery, Robert J. Steinmiller Jr., Jake Armstrong, John Duda, Joseph Sikora
Storyline
Rudy grew up in a steel mill town where most people ended up working, but wanted to play football at Notre Dame instead. There were only a couple of problems. His grades were a little low, his athletic skills were poor, and he was only half the size of the other players. But he had the drive and the spirit of 5 people and has set his sights upon joining the team.

User Review
To be completely honest, I was actually impressed with this film. It is sweet, but there is an honesty and a strong sense of realism at the heart of this film, which to me, provides the base of its appeal. "Rudy", unlike the majority of films about athletes, paints a picture of the real everyman (basically, the jock who isn't a jock) and it does so in a way that is plausible from start to finish. Working hard, eating, breathing and sleeping the game does not mean that you will wind up the star quarterback. Rudy's struggles are genuine: his family is poor and has never sent anyone to college, his grades are sub-par (largely the result of an undiagnosed learning disorder), he can't afford his junior college let alone Notre Dame and Rudy is, at best,only a moderate athlete. It is in the way that he overcomes these obstacles (not to mention the beautiful performance by Sean Astin) which provides the refreshing realism which is at core of this film. "Rudy" is what sports are really all about.


Info Video
Codec: HEVC / H.265 (61.0 Mb/s)
Resolution: Native 4K (2160p)
HDR: Dolby Vision, HDR10
Aspect ratio: 1.85:1
Original aspect ratio: 1.85:1


Info Audio
#English: Dolby TrueHD with Dolby Atmos 7.1 (48kHz, 24-bit)


Info Subtitles
English SDH, Spanish, French

File size: 58.74 GB

You bought a premium. Contact the TakeFile support team, they will increase your traffic up to 512 gb every 48 hours.
Watch trailer of the movie Rudy 4K 1993 Directors Cut Ultra HD 2160p