Dampyr 4K 2022 Ultra HD 2160p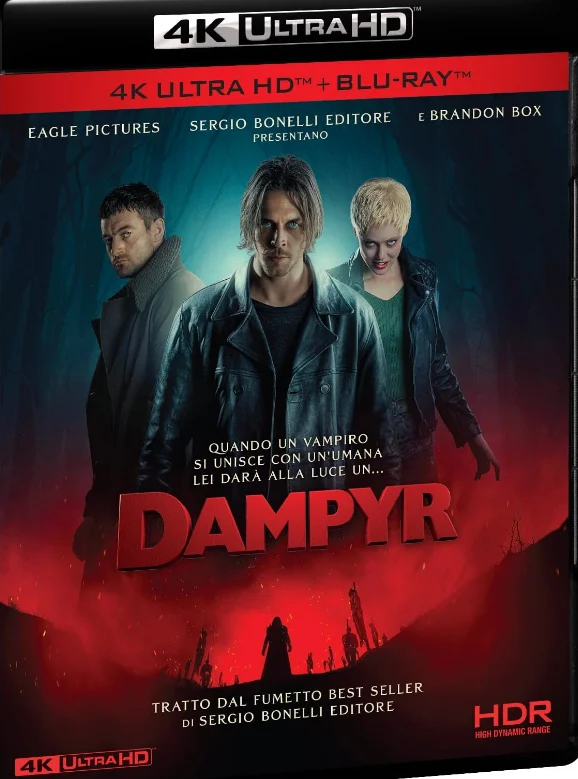 BDRemux 4K 2160P
Сountry: Italy
Language: English, Italian.
Cast: Wade Briggs, Stuart Martin, Frida Gustavsson, Sebastian Croft, David Morrissey, Radu Andrei Micu, Ionut Grama, Luke Roberts, Florin Fratila, Madalina Bellariu Ion, Andreea Coff, Alice Cora Mihalache, Alexandra Poiana, Claudia Negroiu, Aura Calarasu, Simina Siminie, Oliver Lepadatu, Niculae Cristian Bogdan.
Storyline
The plot is set during the Balkan war in the early nineties. Haunted by horrible nightmares, Harlan Draka wanders the countryside, shamelessly making money pretending to be a Dampyr (half-human and half-vampire) ridding villages of what the villagers naively believe to be evil monsters. But, when he is summoned by soldiers who are under attack by real vampires, Harlan finds out the truth: he is a Dampyr. While trying to destroy a terrible Master of the Night, he will have to learn to manage his powers and find out more about his origins.

User Review
I loved this film. It had the feel of an old school vampire film. Hopefully people will judge for themselves so maybe they can make another one. It has some really great actors in it. It is also english speaking. The story line is good. I feel like if they make more we will get more of the story. If your favorite horror sub genre is Vampires like mine than you should check this film out. David Morrissey played a great wicked vampire. Dampyr did not disappoint as far as I'm concerned. This is also has the lead from the new spin off series viking Valhalla in it. Don't miss out on this dark fantasy.


Info Video
Codec: HEVC / H.265 (74.4 Mb/s)
Resolution: Native 4K (2160p)
HDR: HDR10
Aspect ratio: 2.40:1


Info Audio
#English: DTS-HD Master Audio 5.1
#Italian: DTS-HD Master Audio 5.1


Info Subtitles
English, Italian

File size: 63.22 GB

You bought a premium. Contact the TakeFile support team, they will increase your traffic up to 512 gb every 48 hours.
Watch trailer of the movie Dampyr 4K 2022 Ultra HD 2160p