The Nun II 4K 2023 Ultra HD 2160p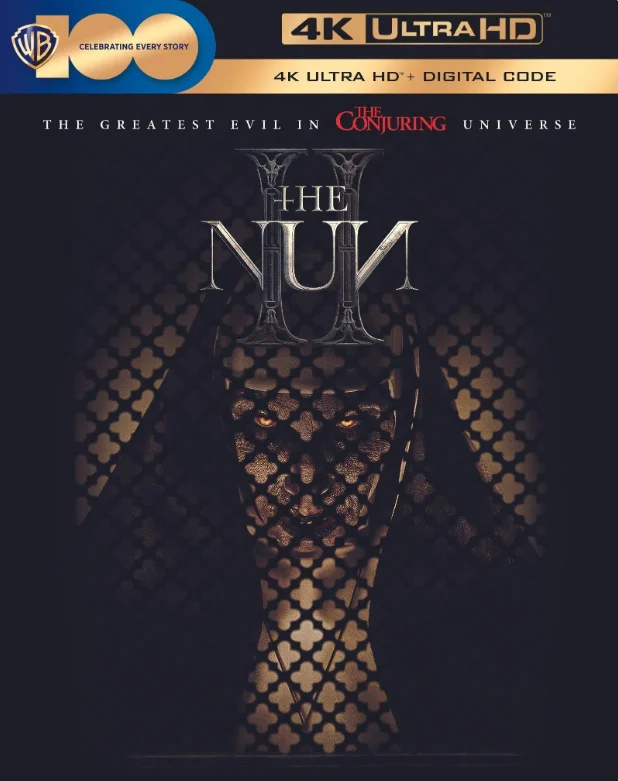 BDRemux 4K 2160P
Сountry: USA
Cast: Taissa Farmiga, Jonas Bloquet, Storm Reid, Anna Popplewell, Bonnie Aarons, Katelyn Rose Downey, Suzanne Bertish, Léontine d'Oncieu, Anouk Darwin Homewood, Peter Hudson, Tamar Baruch, Natalia Safran, Maxime Elias-Menet, Pascal Aubert, Alexandra Gentil, Florence Mestais, Margaux Borel, Viviana Moin
Storyline
A follow-up to the enigmatic gothic horror about a strong evil that haunts and causes supernatural harm to everybody it comes into contact with. After the events of the first film, the said powerful evil now begins to spread in 1956 throughout a town in France as word gets out that a priest has been violently murdered. A finished contemplative in her novitiate, Sister Irene, begins to investigate the murder, only to find a demon behind it -- the same evil that terrorized her in the original film as a nun -- Valak, whom she once again soon comes to encounter.

User Review
In my opinion, the character "The Nun a.k.a (Valak)" was best portrayed in the movie "The Conjuring 2". I didn't like its first solo movie. The atmosphere wasn't bad, but I didn't like it anyway. I didn't like the second movie either. It could be better. In terms of atmosphere, it wasn't as good as the first movie. The plot of the movie was poor. There ara lots of horror movie clichés. There were many jump-scare scenes. I thought it was out of fashion nowadays, but they used it too much in this movie. This spoils the viewing pleasure. There were a few scenes that I liked very much. Even though it was a jump-scare scene, I liked the goat scene. The acting was good, of course, but the weak script. BTW Bonnie Aarons was great again.


Info Video
Codec: HEVC / H.265
Resolution: Native 4K (2160p)
HDR: Dolby Vision, HDR10
Aspect ratio: 2.39:1
Original aspect ratio: 2.39:1


Info Audio
#English: Dolby TrueHD with Dolby Atmos 7.1 (48kHz, 24-bit)
#French (Canada): Dolby Digital 5.1
#Spanish (Latino): Dolby Digital 5.1


Info Subtitles
English SDH, Arabic, Bulgarian, Chinese, Croatian, Czech, Danish, Dutch, Estonian, Finnish, French, German, Greek, Hebrew, Hungarian, Icelandic, Indonesian, Italian, Japanese, Korea, Latvian, Lithuanian, Malay, Norwegian, Portuguese, Polish, Russian, Slovak, Slovenian, Spanish, Swedish, Turkish

File size: 42.30 GB

You bought a premium. Contact the TakeFile support team, they will increase your traffic up to 512 gb every 48 hours.
Watch trailer of the movie The Nun II 4K 2023 Ultra HD 2160p