The Black Gestapo 4K 1975 Ultra HD 2160p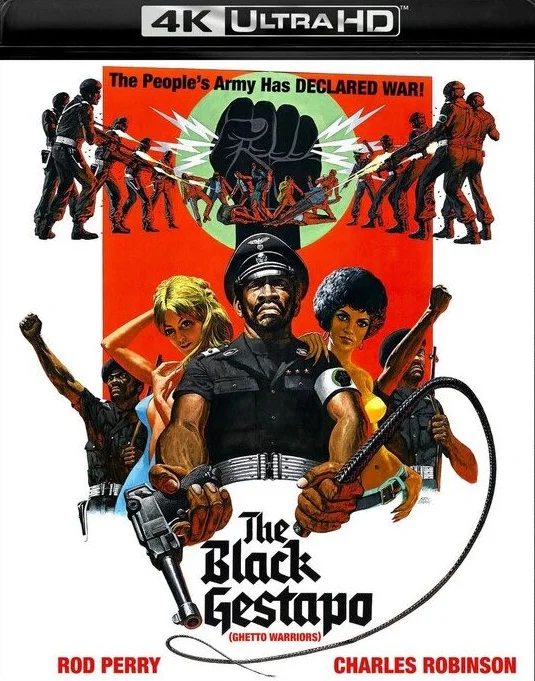 BDRemux 4K 2160P
Сountry: USA
Language: English
Cast: Rod Perry, Charles Robinson, Phil Hoover, Edward Cross, Angela Brent, Wes Bishop, Lee Frost, Donna Young, Charles Howerton, Rai Tasco, David Bryant, J. Christopher Sullivan, Susan Randolph, Colin Male, Gene Russell, Uschi Digard, Chuck Wells, I. William Quinn.
Storyline
General Ahmed has started an inner-city People's Army to try and relieve the misery of the citizens of Watts. When the locals are put under increasing pressure by Mafia thugs, Ahmed's second-in-command Colonel Kojah asks for permission to start a protection squad to take more direct action. Ahmed fears this protection squad will just turn into a vigilante mob, and his prediction soon proves correct. Will Ahmed be able to wrest control back from the power-mad Kojah, or will he be the mob's next victim?

User Review
Before the opening credits we see real footage of the Nazi army marching and chants of "Sieg Heil". Hitler walks by and the frame freezes. Lettering, "The Black Gestapo", pops up on the screen in old English and the funk music kicks in. Oh my, very weird and sure to ruffle a few feathers.

The first half of the film is the better with the evil white crime syndicate going to war with The People's Army. All too soon though, The People's Army is exploiting it's own people in the exact same manner the driven out whites did. No, we can no longer root for the Black Gestapo since they are shown doing or saying the exact same horrible things the whites had previously done in at least three scenes. The point, very much the same as that of the novel "Animal Farm", is really driven home so that even the least sharp viewer could grasp it. Those who overthrow the oppressor are doomed to become oppressors themselves. Sad to say, my mind was not blown.

Well, as I said, the early battles in the film are sick. The whites have to pack up and leave, threatening to return during one long scene of dialogue, yet they never do. I was left waiting for an awesome climactic gang war, but instead only got a mediocre battle between the one time People's Army leader and his organization gone bad. Yeah, there are some novel deaths, but nothing like the brutality of earlier scenes. One the whole there is some mean stuff in this picture, lots of abuse, and black people in Nazi type uniforms. It won't be forgotten.


Info Video
Codec: HEVC / H.265 (88.0 Mb/s)
Resolution: Native 4K (2160p)
HDR: HDR10
Original aspect ratio: 1.85:1


Info Audio
#English: FLAC 2.0


Info Subtitles
English

File size: 55.77 GB

You bought a premium. Contact the TakeFile support team, they will increase your traffic up to 512 gb every 48 hours.
Watch trailer of the movie The Black Gestapo 4K 1975 Ultra HD 2160p