Saw X 4K 2023 Ultra HD 2160p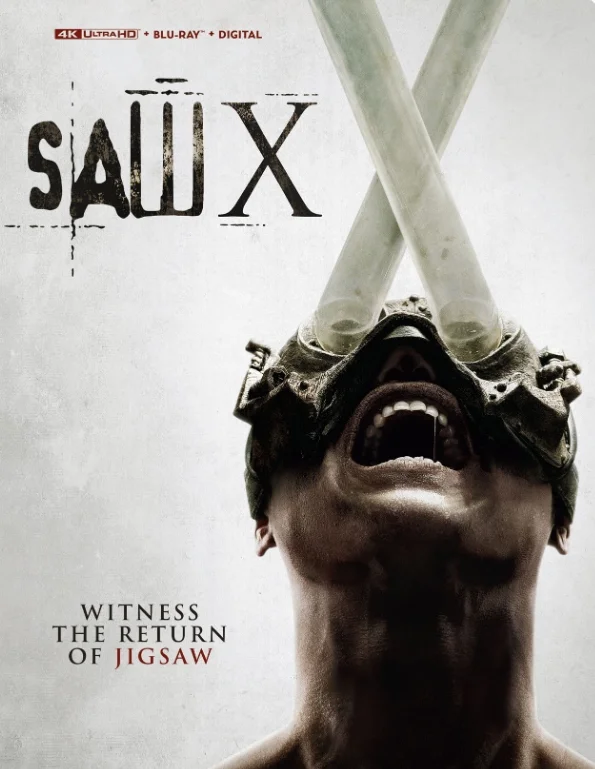 BDRemux 4K 2160P
Сountry: USA, Mexico, Canada
Cast: Tobin Bell, Shawnee Smith, Synnøve Macody Lund, Steven Brand, Renata Vaca, Joshua Okamoto, Octavio Hinojosa, Paulette Hernandez, Jorge Briseño, Costas Mandylor, Michael Beach, Isan Beomhyun Lee, David Alfano, Katie Barberi, Lucía Gómez-Robledo, Donagh Gordon, Sebastián Torres, Cristo Ruiz
Storyline
John Kramer (Tobin Bell) is back. The most chilling installment of the SAW franchise yet explores the untold chapter of Jigsaw's most personal game. Set between the events of SAW I and II, a sick and desperate John travels to Mexico for a risky and experimental medical procedure in hopes of a miracle cure for his cancer - only to discover the entire operation is a scam to defraud the most vulnerable. Armed with a newfound purpose, John returns to his work, turning the tables on the con artists in his signature visceral way through a series of ingenious and terrifying traps.

User Review
I'm a huge fan of this series. I love the original 7 and I mildly enjoy Jigsaw and Spiral. I was excited for another chapter and was not disappointed. This is a great addition to the series.

Just like with the other sequels, this continues to add layers to the backstory and lore with interesting new material. And of course we have lots of cool and gruesome traps. But in many ways, this chapter is different from any of the previous.

For one thing, it takes it's time building story and character. The pace ends up slower because of this, but I think it's worth it. Everything feels more fleshed out (unintended pun). We don't see the hyper-editing style this franchise is known for. And the movie overall feels a bit higher in quality of filmmaking.

My only downside is a lack of surprises, for me at least. I think it might work better for people who aren't as familiar with this franchise as I am.

I had a fun bloody time with this movie and look forward to any future chapters in this series. More games. More blood. More, please.


Info Video
Codec: HEVC / H.265 (66.9 Mb/s)
Resolution: Native 4K (2160p)
HDR: HDR10
Original aspect ratio: 1.85:1


Info Audio
#English: Dolby TrueHD with Dolby Atmos 7.1 (48kHz, 24-bit)
#French: Dolby Digital 5.1
#Spanish (Latino: Dolby Digital 5.1


Info Subtitles
English SDH, Chinese (Simplified), Chinese (Traditional), French, Spanish

File size: 59.81 GB

You bought a premium. Contact the TakeFile support team, they will increase your traffic up to 512 gb every 48 hours.
Watch trailer of the movie Saw X 4K 2023 Ultra HD 2160p