Barbarella 4K 1968 Ultra HD 2160p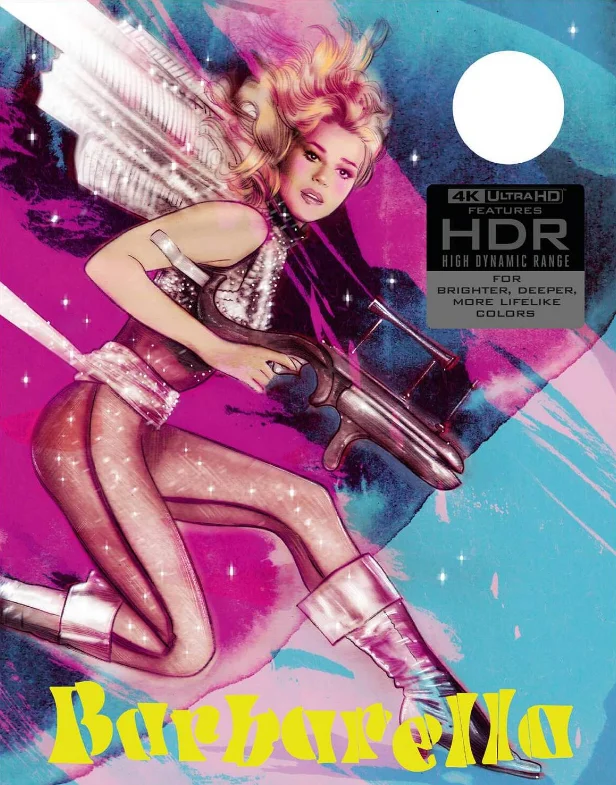 BDRemux 4K 2160P
Сountry: France, Italy
Cast: Jane Fonda, John Phillip Law, Anita Pallenberg, Milo O'Shea, Marcel Marceau, Claude Dauphin, Véronique Vendell, Giancarlo Cobelli, Serge Marquand, Nino Musco, Franco Gulà, Catherine Chevallier, Marie Therese Chevallier, Umberto Di Grazia, David Hemmings, Ugo Tognazzi, Honey Autumn, Silvana Bacci.
Storyline
The year is 4,000. After peaceful floating in zero-gravity, astronaut Barbarella lands on the frozen planet Lythion and sets out to find renowned scientist Durand Durand in the City of Night, Sogo, where a new sin is invented every hour. She encounters such objects as the Excessive Machine, a genuine sex organ on which an expert artist of the keyboard--in this case, Durand Durand himself--can drive a victim to death by pleasure, a lesbian queen who can make her fantasies take form in her Chamber of Dreams, and a group of ladies smoking a giant hookah which dispenses Essence of Man through a poor victim struggling in its glass globe. The special-effects crew constantly impresses.

User Review
Campy sci-fi based on the French comics has Jane Fonda playing the title role, a futuristic superhero who is asked by the President of Earth to travel to a distant planet and rescue a doctor. I can understand why this film has gained a cult following over the past few decades but to me this thing is still a pretty big mess and it's somewhat shocking watching the film to day and looking back and wondering what the original producers were thinking. I mean, if you look at the "story" of this thing, it's a complete mess and it's all over the place. I'm not exactly sure what they were trying to do in regards to the story but it's a complete misfire. Not for a single second do you care about Barbarella's adventure nor do you care about anything she's doing in the film. The reason the film remains entertaining is because it's simply so strange and surreal. Visually the film is quite impressive as a bunch of pulp. The set design and costumes are certainly memorable and the now laughable special effects have a mild charm to them. What really keeps the film moving is seeing someone like Fonda doing a role like this. She's very good in the role, there's no doubt about it, as she can handle the campy moments as well as deliver on the sexuality of the character. Her nude striptease that starts the film is certainly the highlight but they needed more of these throughout. John Phillip Law isn't all that "good" in the film but there's no question that his angel character is quite memorable. Director Roger Vadim doesn't bring enough life, energy or fire to any of the scenes to really make them work and that's certainly not good when you're dealing with a film like this one. BARBARELLA certainly deserves its label as a camp classic but it's just not entertaining enough to be fully rewarding.


Info Video
Codec: HEVC / H.265 (93.6 Mb/s)
Resolution: Native 4K (2160p)
HDR: Dolby Vision, HDR10
Aspect ratio: 2.35:1
Original aspect ratio: 2.35:1


Info Audio
#English: FLAC 1.0
#English: Dolby TrueHD with Dolby Atmos 7.1 (48kHz, 24-bit)
#French: LPCM Audio 1.0


Info Subtitles
English SDH, Arabic, Chinese (Mandarin Traditional), Chinese (Cantonese Traditional), Danish, Dutch, Finnish, French, Norwegian, Portuguese, Russian, Spanish, Swedish, Thai

File size: 67.98 GB

You bought a premium. Contact the TakeFile support team, they will increase your traffic up to 512 gb every 48 hours.
Watch trailer of the movie Barbarella 4K 1968 Ultra HD 2160p