The Toxic Avenger Part III: The Last Temptation of Toxie 4K 1989 Ultra HD 2160p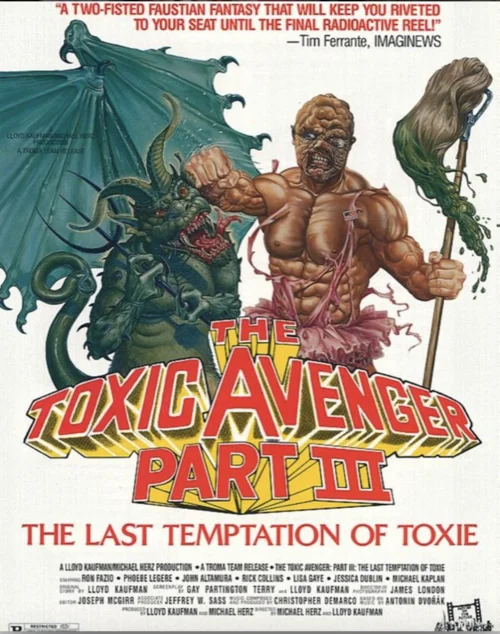 BDRemux 4K 2160P
Сountry: USA
Cast: Ron Fazio, Phoebe Legere, John Altamura, Rick Collins, Lisa Gaye, Jessica Dublin, Tsutomu Sekine, Michael J. Kaplan, Traci Mann, Bonnie Garvin, Karen King, Dee Dee Mancuso, Melissa Osborne, Helen Wheels, Raven Skye, Fernando Antonio, Paul Borghese, Sylvester Covin
Storyline
Picking up immediately after where 'Toxic Avenger Part 2' left off, after getting Apocolypse Inc. out of town, Toxie has nothing to do. He tries to get a job, but fails as a normal job is no place for a creature of superhuman size and strength. Until on day, Toxie is told that his blind girlfriend Claire, has a chance to see again, but it costs a lot of money. Then Toxie gets the opportunity to work as a spokesman for his enemy Apocolypse Inc. He says "yes" so he can get money for Claire. Not knowing what he was doing, Apocolypse Inc. takes over Tromaville and makes everyone slaves to work for them. After Claire's surgery, she opens up Toxie's eyes and he has too battle with The Devil himself so there will be a better future and a room for Toxic Avenger Part 4.

User Review
By the way this started I thought it was gonna be better than 2...maybe not better than 1 but better than 2. From the opening scene, however, it goes way downhill. Very disappointing since some of TOxie's greatest, goriest, and funniest kills are shown in the opening scene. Theat scene is seriously the ONLY gore scene in the film, except a little at the end. The rest is turned into some type of "family" comedy. Not for the family, but a regular comedy. Some of the jokes are funny, when Toxie is talking like a tennis player...cracks me up. But most of the jokes fall flat. It is, however, still fun to see Toxie kill the bad guys. We just want it with more gore. This film barely even has any nudity! Troma without nudity is like Easter without eggs! Come on Troma is known for their gore and nudity. Basically needed in most Troma films with some exceptions...like Kabukiman. However the other Toxic Avengers had it and it is missing. There is a n homage to the original in this one though, about his Mother-In-Law. Classic. Overall, not horrible but not great. Seen a lot of better Toxic films. Worth a watch if you are a Troma fan.


Info Video
Codec: HEVC / H.265 (74.0 Mb/s)
Resolution: Native 4K (2160p)
HDR: HDR10
Aspect ratio: 1.85:1
Original aspect ratio: 1.85:1


Info Audio
#English: FLAC 2.0
#English: Dolby Digital 2.0 (Commentary by Lloyd Kaufman, Ronny Thomas, Sean McGrath)


Info Subtitles
English SDH

File size: 54.36 GB

You bought a premium. Contact the TakeFile support team, they will increase your traffic up to 512 gb every 48 hours.
Watch trailer of the movie The Toxic Avenger Part III: The Last Temptation of Toxie 4K 1989 Ultra HD 2160p