Citizen Toxie: The Toxic Avenger IV 4K 2000 Ultra HD 2160p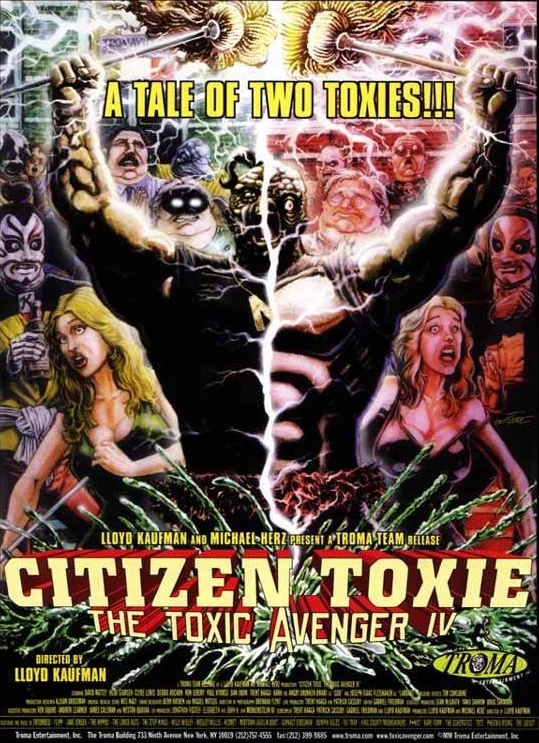 BDRemux 4K 2160P
Storyline
When the notorious Diaper Mafia take hostage the Tromaville School for the Very Special, only the Toxic Avenger and his morbidly obese sidekick Lardass can save Tromaville. However, an explosion results in some unforeseeable consequences, creating a dimensional tear between Tromaville and its dimensional mirror image, Amortville. While the Toxic Avenger (Toxie) is trapped in Amortville, Tromaville comes under the control of Toxie's evil doppelganger, the Noxious Offender (Noxie). Will Toxie return to Tromaville in time to stop Noxie's rampage or is he doomed to remain a second-class citizen in Amortville forever? How did Toxie's wife Sarah become pregnant with two babies from two different fathers? Will Tito ever get over his teen angst and become a productive member of society?

User Review
Its always a problem to review a Troma movie. Troma is a genre unto itself, and you can't compare their movies to what everyone else is doing. They have their own rules and esthetics... and going by those, this is the best film to come out of Troma in years!

Without doubt, this is the most over-the-top, all-out assault on good taste Troma's put out. They even had the good idea to include an apology for Toxic Avenger Parts II & III. The movie is overloaded with gore, sex, breasts, political incorrectness, breasts, sex, lesbians, transsexuals, mutant superheroes... and did I mention sex, breasts and gore?

Yes, it has no socially redeeming value whatsoever. Its Troma. It's not supposed to. If you're a Troma fan, see it. If you're not, you probably won't like it. Unless you do.

The screening I saw was just this past weekend at the Renegade Film Festival in St. Petersburg, FL. The copy was an advanced screening, and according to the festival promoters the editing on the film was completed just in time for the festival, so I don't know how people were seeing this months ago or why the date listed is 1999 on here...


Info Video
Codec: HEVC / H.265 (71.0 Mb/s)
Resolution: Native 4K (2160p)
HDR: HDR10
Aspect ratio: 1.85:1
Original aspect ratio: 1.85:1


Info Audio
#English: FLAC 2.0
#English: Dolby Digital 2.0 (Commentary by Lloyd Kaufman)
#English: Dolby Digital 2.0 (Commentary by Trent Haaga)
#English: Dolby Digital 2.0 (Commentary by Gabe Friedman, Sean McGrath)


Info Subtitles
English (SDH)

File size: 55.38 GB

You bought a premium. Contact the TakeFile support team, they will increase your traffic up to 512 gb every 48 hours.
Watch trailer of the movie Citizen Toxie: The Toxic Avenger IV 4K 2000 Ultra HD 2160p